US Amateur Finalist Oliver Goss has returned to his hometown of Perth at the conclusion of an impressive year on the amateur golf circuit and competing for the University of Tennessee.
It isn't to be a summer break solely filled with beaches and socialising. Goss has plenty of work ahead of him in preparation for his sophomore year at college as well as two of the biggest tests in golf, the US Masters and US Open.
With the Christmas period being Goss' only time in the country for almost a year, Golf Australia seized the opportunity to run a camp with Goss and fellow Western Australian college golfer Jayde Panos at Melville Glades Golf Club yesterday. High Performance Director Brad James and Sports Science Co-Ordinator Ryan Lumsden joined Perth based national coach Richie Smith to work on a variety of aspects of Goss' game including swing analysis, 3D biomechanical analysis and a physical assessment.
The only thing they couldn't control was the weather.
"I just don't remember it being this hot." Said Goss, who landed in Perth on Thursday.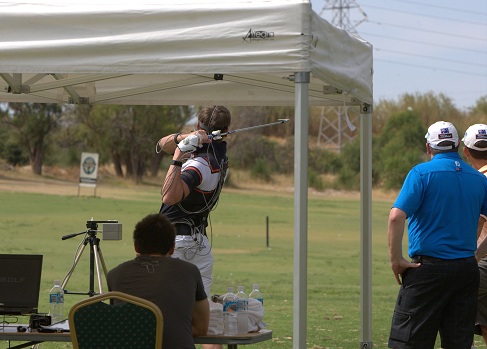 "In Knoxville it's been snowing and below zero, and to jump off the plane in 43 degrees was pretty ridiculous. But I'm really loving it. Going to the beach every day, seeing my parents and friends and just getting back into it so it's a good break away from college."
With the college season winding down and the temperatures dropping in Tennessee, the chance to return to warmer weather gives Goss a well needed opportunity to get back out on the golf course.
"I'll be getting out in the mornings as much as I can. The college season finished end of November and from then on we just do our own thing and practise. In-between the rain it's been quite wet and cold. It's hard to practise because of the weather but we try and do as much as we can."
Goss is in a unique situation studying overseas as a member of the Golf Australia National Squad, and over the past few days both Goss and Golf Australia have been working hard to make sure they make the most of the opportunity together.
"We're working on some development and my swing in regards to technique and drills because I don't get as much access to this technology in the States. I might see my coach (Richie Smith) two or three times a year so it's really important to keep up the communication and do as much as I can while I'm at home."
Goss has had a history making season at the University of Tennessee, where he posted the second lowest season stroke average of 71.95, won the General Hackler Championship, as well as earning two All-American and two All-SEC selections.
The team selections are made selected by the media to honour the best players in College Sports for that particular season. While the concept is new to Goss and most Australians, it's been a significant achievement for Goss, especially when competing as a freshman.
"I'm still not sure how well I understand the All-American teams but I do know that in America it's certainly a big deal. To be recognised means you're at the peak of college performance, so it does mean a lot to get the recognition."
Only four months away is US Masters at Augusta National Golf Course, a place Goss has played once before and described as "Golf Heaven". It is fitting Goss will make his Major debut at the Masters with Adam Scott as the defending champion after earning many favourable comparisons with Australia's lone Masters champion during his US Amateur run.
"I'm going to try and do as much as I can to prepare. It will be a great learning experience and I'll get to see where I'm at in my performance and abilities. I'm going to enjoy that week and we'll see where it takes me."